Caroline Flack responds to Love Island's new host
Caroline Flack responds to Laura Whitmore's announcement as new Love Island host.
She stepped down as show presenter earlier this week following her arrest last week.
And despite the recent events, Caroline's being super supportive of her friend, 'I'm glad it's Laura..'
Shortly after Laura announced the news, Caroline took to Instagram Stories to comment.
'I'm glad it's Laura..' she writes, 'she loves the show as much as I do...'
'Again.. thank you for you continuous messages of support..'
Caroline admits, 'it's a really rough time...'
'but I'm doing all can to keep my head above water and sort this all out.'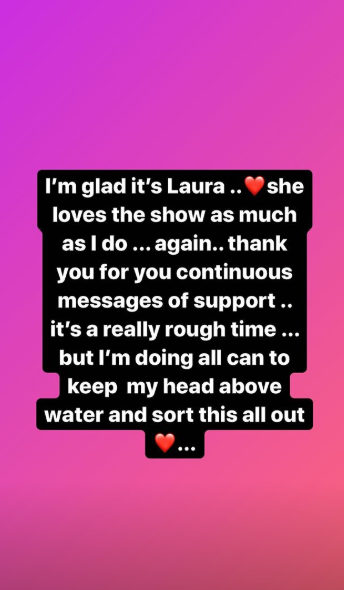 What happened?
Caroline was arrested and charged with assault on her boyfriend Lewis Burton last week.
It followed a heated argument in the early hours of Friday morning.
 

View this post on Instagram

 
A Met Police spokesperson tells The Sun that officers were called in the early hours of the morning.
'Caroline Flack, 40, of Islington was charged on Friday, 13 December with assault by beating.'
'She will appear on bail at Highbury Corner Magistrates' Court on Monday, 23 December.'
 

View this post on Instagram

 
Caroline steps down as Love Island host
The TV presenter took to social media earlier this week to announce her exit as Love Island host.
'I am committed to co-operating with the authorities and I can't comment further on these matters until the legal process is over.'
'Love Island has been my world for the last five years, it's the best show on telly.'
'In order to detract attention from the upcoming series I feel the best thing I can do is to stand down for series 6.'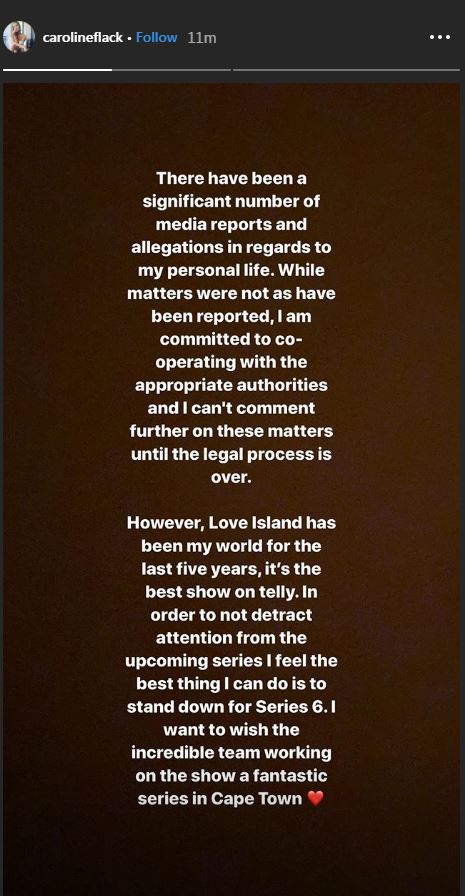 Laura Whitmore took to Instagram today to reveal she will take over as show host.
Read her announcement here.