Cardi B defends Offset
Cardi B defends Offset on Instagram after his rumored former fling receives a DM from his verified account.
Tekashi69's girlfriend Jade shares a video showing off the message with her followers online.
The DM reads, 'Miss u fr.' In case you're unsure, 'fr' stands for 'for real'.
 

View this post on Instagram

 
What happened?
Tekashi69's girlfriend Jade takes to Instagram to share that she's received an unexpected DM from Offset.
It's important to note that there had been rumours that Jade is a former flame of his.
She captions the post, 'You wife Cardi B has a OPEN CRIMINAL CASE.'
 

View this post on Instagram

 
She goes on, 'why are you writing me you don't respect her ????????'
'Theirs a lot of s**t I haven't exposed yet, but theirs a time for that.'
According to MailOnline, Cardi and Jade have quite the history.
Jade accused the rapper of ordering an attack on her in a strip club last year.
It's alleged Cardi did this because she believed Offset had an affair with Jade.
Because of this, Cardi faces felony charges.
 

View this post on Instagram

 
Cardi defends Offset
The Bodak Yellow rapper takes to Instagram to defend her husband, insisting he was hacked.
She shares a video of herself, Offset and their daughter Kulture.
The Press artist addresses the camera, "We not going to entertain bulls**t... this guy Instagram has been hacked."
 

View this post on Instagram

 
Cardi and Offset went through a rough patch late last year into early this year.
She announced their split on Instagram after he was caught allegedly cheating on her.
So he did everything in his power to win her back - it worked too!
 

View this post on Instagram

 
Referring to this time in their relationship, she says, "You know, babe I know you done some dumb s**t."
"Everybody know he done some dumb s**t, but come on ni**as ."
Offset really wants to re-assure Cardi's followers that he did not send that message.
So he shares a series of videos to his wife's Instagram Stories revealing an email sent to him by Instagram.
The email reads, 'We detected unusual activity on your account in the last 24-48 hours.'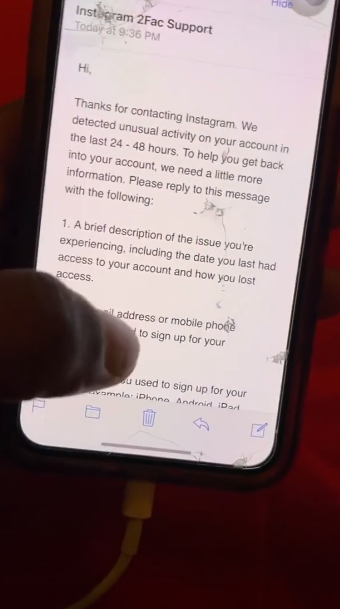 In other Cardi B news, she recently took on Vogue's 73 questions. 
Read all about that here.