Britney Spears breaks her silence
Britney Spears is reminding her followers that we never know what's going on behind closed doors.
She shared a brief statement on Instagram last night, shortly after her boyfriend branded her father a, 'total d**k.'
 

View this post on Instagram

 
The pop-star has been making headlines following the release of the New York Times documentary, Framing Britney Spears.
It follows the early stages of her career, her rise to fame and her ensuing conservatorship battle.
Britney's father, Jamie Spears, has been her conservator for the last 12 years.
Her phenomenal rise to superstardom. A disturbing and relentlessly documented fall. And now, an ensuing conservatorship battle. #NYTPresents: Framing Britney Spears. Premiering Feb. 5 on @FXNetworks and @Hulu. pic.twitter.com/ZbsUnyV89j

— FX Documentaries (@FXDocs) January 22, 2021
This deems him responsible for almost every aspect of her life.
Last summer, Britney requested that her father step away from the situation entirely.
However, according to E!, the judge declined the request and extended the conservatorship until September 2021.
 

View this post on Instagram

 
After seeing the documentary, viewers were shocked by its revelations, and took to Twitter to share their disbelief.
Britney remained quiet, and continued posting light hearted content on social media.
It wasn't until last night that Britney finally broke her silence, however, she didn't directly address the film.
 

View this post on Instagram

 
Britney breaks her silence
In the short statement, the artist revealed while she loves being on stage, she's, 'taking the time to learn and be a normal person'
'I love simply enjoying the basics of every day life !!!!' The 39-year-old admitted.
She continued, 'Each person has their story and their take on other people's stories !!!!'
 

View this post on Instagram

 
'We all have so many different bright beautiful lives!!!'
'Remember, no matter what we think we know about a person's life it is nothing compared to the actual person living behind the lens'
 

View this post on Instagram

 
Sam Asghari calls Jamie a, 'total d**k'
Britney's comments came shortly after her boyfriend, Sam Asghari, called her father a, 'total d**k,' in an Instagram Stories rant.
He wrote, 'Now it's important for people to understand that I have zero respect for someone trying to control our relationship and constantly throwing obstacles our way.'
 

View this post on Instagram

 
'In my opinion, Jamie is a total d**k.' Sam wrote.
'I won't be going into details because I've always respected our privacy but at the same time, I didn't come to this country to not be able to express my opinion and freedom.'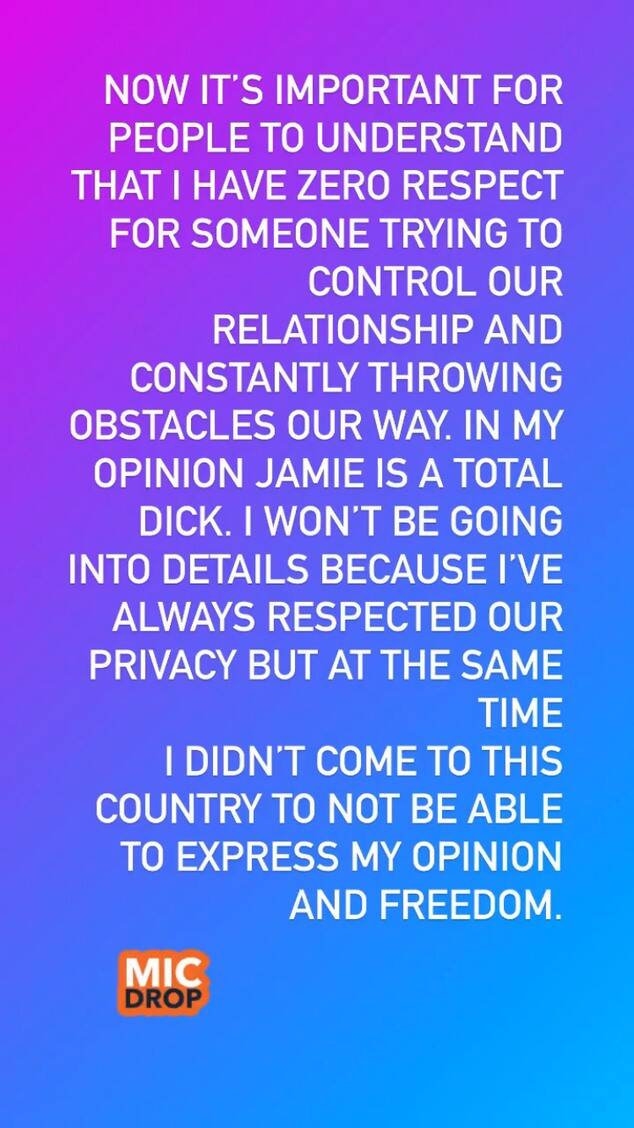 Framing Britney Spears hasn't been released in Ireland.