Billie Eilish publicly apologises
19-year-old Billie Eilish has released a public apology after an old video of her mouthing a racist slur emerged online.
The singer said she's, 'appalled and embarrassed,' by the footage.
 

View this post on Instagram

 
The clip appeared in a compilation video of the star which went viral on TikTok recently.
According to Sky News, the Bad Guy singer is shown mouthing an anti-Asian slur and speaking in different accents.
She faced major criticism online over the clip, and is now speaking out to address the issue.
Billie began by saying this is something she wants to address because she's, 'being labelled something that [she is] not.'
The singer said she was about 13 or 14 in the video, and she was singing along to a song.
She claimed that at the time, she didn't know this particular lyric was a derogatory term.
 

View this post on Instagram

 
'Nothing excuses the fact is that it was hurtful'
The artist said, 'I am appalled and embarrassed and want to barf that i ever mouthed along to that word.'
'This song was the only time I'd ever heard that word as it was never used around me by anyone in my family'
'Regardless of my ignorance and age at the time, nothing excuses the fact is that it was hurtful. and for that i am sorry.'
In other parts of the video, she appeared to speaking in different accents.
Addressing this, she explained she was speaking in a, 'silly, gibberish made up voice.'
'Something I started doing as a kid and have done my whole life when talking to pets, friends and family.'
 

View this post on Instagram

 
'It is absolute gibberish and just me goofing around.'
She insisted is is, 'in NO way an imitation of anyone or any language, accent, or culture in the SLIGHTEST.'
Billie said anyone who knows her, knows this is something she has done her whole life.
Billie began to wrap up, 'I not only believe in, but have always worked hard to use my platform to fight for inclusion, kindness, tolerance, equity and equality.'
'We all need to continue having conversations, listening and learning.'
'i hear you and i love you. thank you for taking the time to read this.'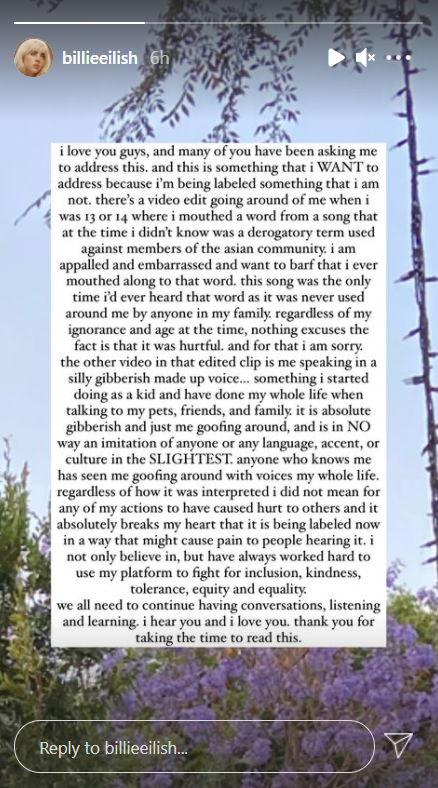 No further comment has been made.