Ariana Grande is 'frustrated'
It's been reported that Ariana Grande is 'frustrated' after Taylor Swift branded her manager a 'bully.'
The Shake It Off singer hit back at Scooter Braun for taking over the label which owned her first six albums.
And Ariana is reportedly, 'frustrated by the whole thing.'
 

View this post on Instagram

 
It seems the music industry is well and truly divided following the controversy.
While Allesia Cara and Halsey have voiced their support for the singer, Justin Bieber and Demi Lovato stand by their manager.
And it appears Ariana Grande might just be joining the line of Scooter Braun supporters.
 

View this post on Instagram

 
A source tells Variety that Ariana is, 'frustrated by the whole thing.'
They say the 7 Rings singer wants to speak out about the situation.
However, Scooter, 'is encouraging all of his acts to stay out of it.'
 

View this post on Instagram

 
What happened?
Taylor Swift had been signed to Big Machine Records which saw the release of her first six albums.
However, when her contract expired last Summer, she signed with Universal Music Group.
 

View this post on Instagram

 
Scooter Braun manages the likes of Justin Bieber, Ariana Grande, Dan + Shay, Karlie Kloss and many more.
It's recently emerged that he's taken over Big Machine Records meaning he now owns Taylor's back catalog.
Taylor took issue with this and hit back at him on social media, 'All I could think about was the incessant, manipulative bullying I've received at his hands for years.'
 

View this post on Instagram

 
She went on, 'Like when Kim Kardashian orchestrated an illegally recorded snippet of a phone call to be leaked and then Scooter got his two clients together to bully me online about it.'
'Or when his client, Kanye West, organized a revenge porn music video which strips my body naked.'
'Now Scooter has stripped me of my life's work, that I wasn't given an opportunity to buy.'
'Essentially, my musical legacy is about to lie in the hands of someone who tried to dismantle it.'
 

View this post on Instagram

 
Scooter supporters
Justin Bieber has taken to Instagram to question Taylor's motives.
He wrote, 'Scooter has had your back since the days you graciously let me open up for you.!'
'So for you to take it to social media and get people to hate on scooter isn't fair.'
 

View this post on Instagram

 
Demi Lovato also took to Instagram Stories in support of her new manager.
'I have dealt with bad people in the industry and Scooter is not one of them. He's a good man.'
'Personally, I'm grateful he came into my life when he did. Please stop 'dragging' people or bullying them. There's enough hate in this world as it is.'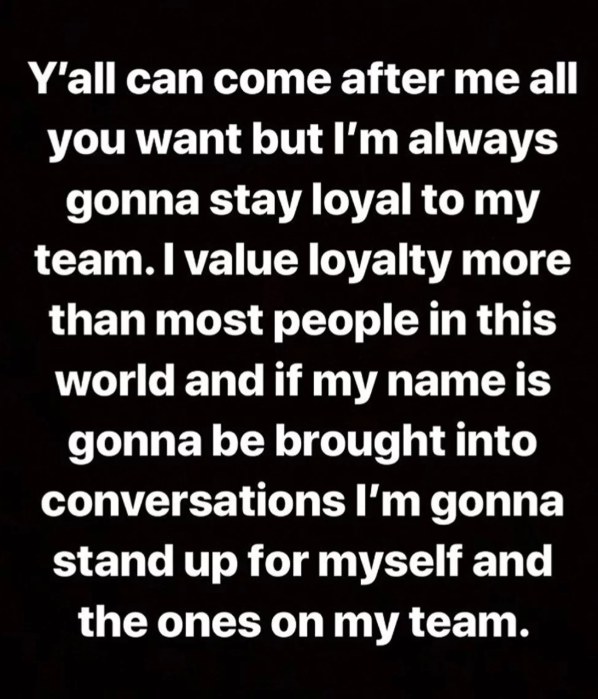 Taylor supporters
While Scooter evidently has his own group of supporters, so does Taylor.
Halsey took to Twitter, 'Taylor Swift is a huge reason why I always insisted to write my own music.'
'I believed if she did it (in a way that made my teeth ache like cold water and my heart swell and my eyes leak) than I should too.'
@taylorswift13 pic.twitter.com/1iI2tCr8my

— h (@halsey) June 30, 2019
According to Teen Vogue, Cara Delevingne also took to the comments section on Justin Bieber's post to defend Taylor.
When Justin's wife Hailey commented, 'Gentleman,' Cara wrote, 'gentleman? @haileybieber @justinbieber you must be bored.'
'I wish you spent less time sticking up for men and more time trying to understand women and respecting their valid reactions.'
 

View this post on Instagram

 
She went on, 'As a married man, you should be lifting women up instead of tearing them down because you are threatened.'
'As you said, you haven't spoken to her in years, which means you definitely don't understand the situation.'
'I do. Take a step back and try and learn from this. We should all be on the same team. End of story.'
 

View this post on Instagram

 
I guess we'll just have to wait and see how this unfolds.