Ariana Grande and Justin Bieber hit back
Ariana Grande and Justin Bieber have hit back after fellow artist Tekashi 6ix9ine accused them of buying their Billboard number one.
It seems the rapper believes his track GOOBA, which currently sits at number three on the charts, is worthy of the top spot.
Tekashi made the accusation in a video posted on Instagram this week.
In the clip, he claims he launched an investigation into the matter after Justin and Ariana's Stuck With U climbed the charts.
And he apparently discovered that, "six credit cards," were used to buy 30,000 units of the song.
 

View this post on Instagram

 
The rapper added, "When we asked where was those six credit cards linked to, Billboard said, 'We can't disclose that information.'"
Tekashi went on to show his followers that his track GOOBA was streamed 50m times.
However, he alleges Billboard only counted 31m, "Billboard illegally disqualified 20m streams."
Ariana hits back
In a lengthy Twitter post, Ariana vehemently denied the accusations against her.
It seems she also took offence to the fact that Tekashi failed to mention her collaborator, Justin Bieber in his rants.
 

View this post on Instagram

 
The singer wrote, 'my fans bought the song, JUSTIN'S fans bought the song.'
'OUR fans bought this song (never more than four copies each, AS THE RULES STATE).'
She went on, 'they are ride or die motherf**kers and i thank god every day that i have them in my life.'
'not just when they fight for us to win (even when i ask them not to as i did this week) but because they're some of the greatest people i know.'
'sales count for more than streams. u can not discredit this as hard as u try.'
 

View this post on Instagram

 
Ariana added, 'to anybody that is displeased with their placement on the chart this week or who is spending their time racking their brain thinking of as many ways as they can to discredit hardworking women (and only the women for some reason.....), i ask u to take a moment to humble yourself.'
'be grateful you're even here. that people want to listen to u at all.'
'it's a blessed position to be in.'
— Ariana Grande (@ArianaGrande) May 18, 2020
Justin hits back
Meanwhile, Justin also hit back at Tekashi in a post on Instagram Stories.
The 26-year-old wrote, 'He said his streams don't count.'
'Yes they do but he is counting his global streams and this is a domestic chart so only domestic streams count.'
 

View this post on Instagram

 
Justin added, 'He said 30k was bought with 6 credit cards but that is a lie.'
'The rules are clear. One credit card can buy max 4 copies. Anything over that the entire amount gets thrown out.'
'Nielsen checks this and found all our sales were legit because our fans are amazing and bought them.'
He concluded, 'This is my song with Ariana Grande and I'm honored to work with her to help raise money for a great cause.'
'If you gonna say her name make sure you say mine because it's our song.'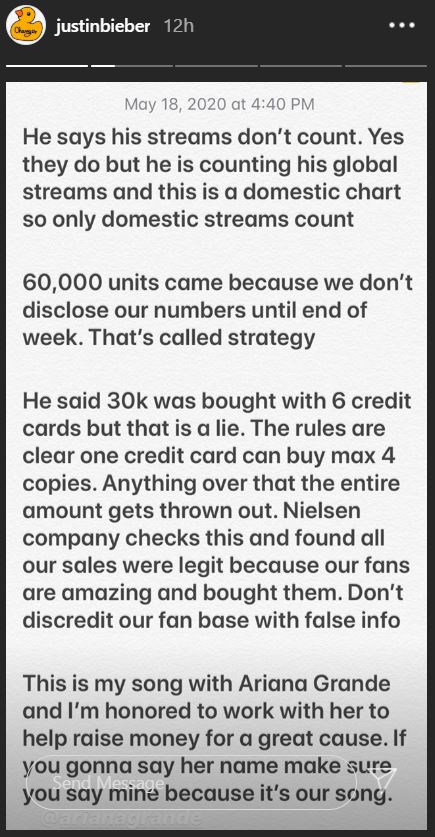 Instagram Stories @justinbieber
Tekashi replies
Tekashi later responded to Ariana in another video posted to Instagram.
He captioned the post, 'All I'm saying is I worked super hard to make it out of Brooklyn NY.'
'I speak for the millions of kids who aren't as fortunate as you.'
 

View this post on Instagram

 
He added, 'The millions who weren't fortunate to be on T.V..'
'LIFE is REAL when you're on welfare LIFE is REAL when you grow up with out a father.'
'You don't know what that is like. You say for me to be humble .... I don't think you know what humble is..........'
'YOU ARE VERY TALENTED AND BEAUTIFUL GOD BLESS YOU. But you will NEVER UNDERSTAND MY PAIN'
Meanwhile, find out why Carole Baskin never made it into the Stuck With U music video here.