...and possibly a chance of another go at Conor McGregor!
He's called out McGregor since he was beaten inside 13 seconds at UFC 194 just over a year ago, but so far Jose Aldo's demands haven't been met.
He's tried everything. He won an interim featherweight title fight against Frankie Edgar at UFC 200, he's aimed trash-talk at The Notorious One, and he's even threatened to retire since it didn't look like he was going to get his way.
The Brazilian is now the featherweight champion again, after McGregor was stripped of the title following the withdrawal of light heavyweight champion Daniel Cormier of the main event of UFC 206 in Toronto.
However, in an absolutely fantastic interview with Ariel Helwani, he now appears to be going after McGregor himself, rather than waiting for McGregor to come to him.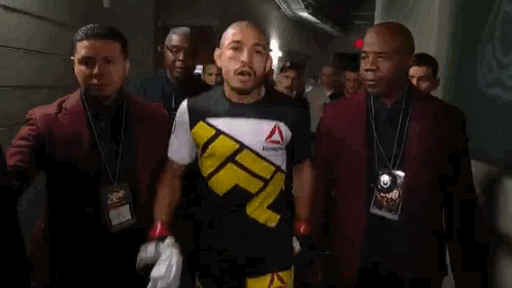 In the interview, he said that the match between him and new interim featherweight champion Max Holloway at UFC 208 in Brooklyn was set in stone, however when asked about it he said:
"This fight was set. We had told the UFC we wanted to fight on that date. For us, it was set. The UFC said, OK, and they asked that we not discuss it any further before UFC 206. I was told the winner of the Max Holloway and Anthony Pettis fight would be my opponent in Brooklyn, and my understanding was that both Holloway and Pettis were told the same thing before their fight.
He added: "After that fight, Holloway said a bunch of different things. First, I heard he twisted his ankle and wouldn't have time to heal. Then I heard he had a trip booked to Disney World with his kids and he wouldn't be able to reschedule. Then I heard his gym is closed during the holidays and he wouldn't have enough time to train. So he's basically going around, talking a lot of trash, saying a lot of bullsh*t and acting like a punk. He just talking sh*t."
He was then asked if the thinks the fight will actually go ahead, and came out with this bombshell:
"I believe they will soon announce an interim lightweight title fight with me. They've been trying to find me an opponent, and -- surprise, surprise -- at least one has already turned down the fight against me. I'm waiting to see who they will find."
It's not quite clear who the fighter in question is, but it's being reported that it was #1 lightweight contender Khabib Nurmagomedov.
What makes this story very interesting, is the fact that Helwani himself said he checked all the facts, and that Aldo isn't lying:
There could be some very interesting times ahead in the UFC, even if McGregor is taking a break.