Ok, so you woke up in a sweat this morning as you still have Christmas shopping to do... DON'T PANIC! (Maybe panic just a little.)
If you've yet to buy a presents - we're here to help. Here's what to purchase if you're stuck..
Your Dad
A voucher - Don't listen to people who say vouchers are lazy presents, they don't know what they're talking about. Vouchers come in seriously handy when you're broke after Christmas and want to treat yourself. Be this for his fave restaurant or shop - he'll love it.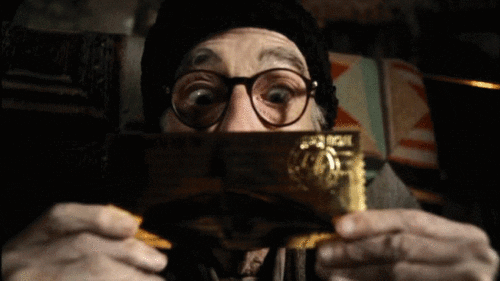 A book - His favourite author, sports star or just a book of puns.
A jacket and gloves - A decent one. A jacket that will keep him warm and dry on his commute to work. (Bonus points from your mum if it's practical, too.)
Your Mum
A spa break - She's a busy woman. She works, cooks, cleans and does everything around the house. She spends a lot of time worrying about everyone else, give her back some 'me-time' and some classic R&R.
A family photoshoot - Give the Kardashian-Jenners a run for their money. Get the fam together, put on your Sunday best and strike a pose. It'll be something nice to hang in the house.
A day out - Take your mum to get her nails or hair done, or maybe have a spot of afternoon tea somewhere fancy. Groupon have amazing deals for things like this! You can't beat some quality time.
Your girlfriend
A hoody - She is constantly stealing yours and it drives you mad. Get her one identical to the one she's always taking from your room when she thinks you're not looking.
Pyjamas - Girls love nothing more than some comfy jammies to flake in after a long day at work or college. Jammies or a onesie she will be snug as a bug.
Makeup - If she wears it, she wants it. Girls never have enough makeup. Have a snoop through her makeup bag and find her shade of foundation. And, throw in her fave lippy for good measure. Sorted. If you don't have time to check shades, a voucher for her fave brand of makeup will do the job. Let her go wild in store. The DREAM.
Your boyfriend
A jersey - A hoodie or shirt of his fave team he will ADORE.
Tickets - His favourite band, a comedy gig or even a sports event. Bonus points if it's something you both enjoy and can do together or something he can take his best mate to for a lads day out.
A gadget - A wireless speaker, aux cable for his car or a a VR headset. Lads love gadgets that they can use.
Good luck!